Lockett's Foundry & Jones Mill
*National Register of Historic Places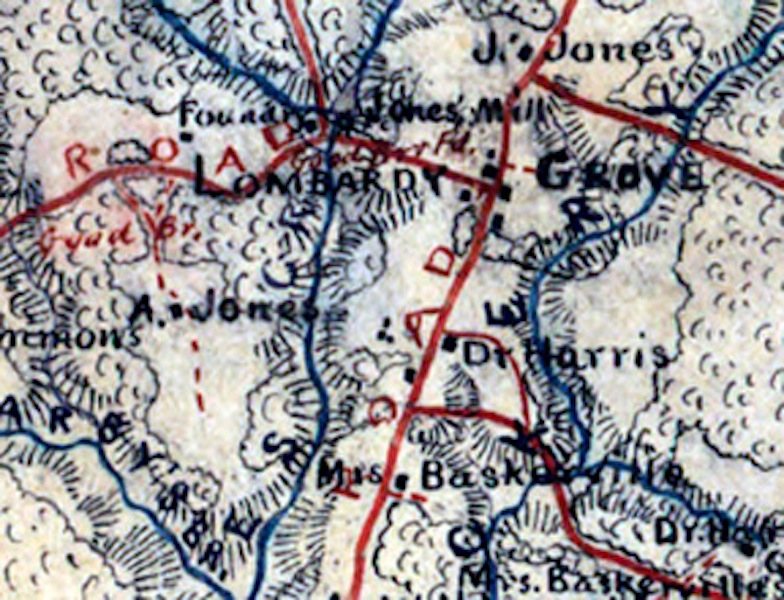 Nothing remains of either structure. They were located near the intersection of Union Level Road and Gordon's Lake Road, South Hill, VA, and in the vicinity of the Virginia Department of Game & Inland Fisheries
Lake Gordon
Public Boat Access on Route 799 just off Union Level Road (S.R. 664).449 Washington St. Boydton, Virginia 23917
In the nineteenth century a foundry, mill and store were located near the Lombardy Grove Tavern and under the same ownership--the William Jones family from 1828 to 1869 and Harwood A. Lockett from 1869 to 1892.
John K. Lockett (1839-1895), who was the son of Harwood A. Lockett of Lombardy Grove Tavern, and brother of Phillip and Myrta, probably assisted in the running of the store as his Confederate military records list his occupation as "merchant." John Lockett enlisted as a private in Company I 38th Virginia Infantry in June 1861 "contrary to the advice of his physician" according to his father in a letter received by the CSA Secretary of War George W. Randolph May 1, 1862. Harwood Lockett stated that his son "could no doubt get a discharge but is anxious to render any service to the government in his power. [He] was raised in a county store writes a pretty good hand, is a good book keeper and has acted as commissary Sergeant for the 38 Va Regt. for a few months but his health gave way." Harwood Lockett requested limited field service for his son with the statement that John was "anxious to render any indoor services." John worked periodically in the Commissary Department until December 31, 1861 based on a February 1862 pay receipt. By 1864 and probably earlier, he was back in Mecklenburg County as a citizen. The Lombardy Grove post office was located at the store when it relocated from Baskervill's plantation. John K. Lockett served as the postmaster (1860-1866).
John K. Lockett established a foundry in Mecklenburg, for the manufacture of agricultural implements. Foundries were vital to life at home as they produced farm implements necessary for food and income; therefore, their operators could be exempt from military service. On that basis in April 1864 the court recommended that Lockett be exempt from service (as an "agriculturalist"). In August 1864, John K. Lockett, "Blacksmith," was paid $66.50 for horse and mule shoeing and bridle repair by the Confederate government. Today nothing remains of the facility. The foundry was located a short distance west of Lombardy Grove Tavern and was shown on the 1864 Confederate Engineers map as "Foundry." It appears to have been located near the intersection of present-day Union Level Road and Gordon's Lake Road. Mryta Lockett Avery related in her memoirs that her older brothers -- Phillip and John -- "ran a plow foundry which did a good business." She recalled a neighbor, Mr. Elisha Betts, sharing with her that the "'Lockett Plow' by reason of its excellence was a somewhat famous implement of industry in Virginia, the Carolinas and Tennessee."
Myrta's firsthand account of the foundry's operation focused on "casting plow points." She, the "Sturtivant girls" -- Mary and Alice, sister Lulie's step-sisters, and her own sisters -- Ella and Annie, were "guests of the day at the foundry where points were being cast":
We went to it half-mile from the house, in carriages and buggies. The forms, molds, or whatever the receptacles were called in which melted metal was to take shape, were square boxes filled with sand, and laid on the earthen floor in rows with aisles between. In the sand were depressions the shape and size of the point.
In the furnace, the hottest thing I ever saw, was the metal, liquid and brought to a white heat. It was in a container that tilted. Between two long poles supported at each end by a negro man, swung a metal pot. These two men, Uncle Sam and Humphrey, swung that pot under the furnace container until it filled with that white hot liquid; then, rapidly moving along the aisles, they emptied it into the square boxes. There was roaring within, the sound of rushing waters without, and, I suppose, in close vicinity of the men, intolerable heat. Those two men, my brothers' foremen, were drawn from my father's select force of trained workmen. Philip and John could leave them in charge of everything when need be.
Mills were equally important for sustenance and the economy. "Jones' Mill" also shown on the 1864 map was associated with the Tavern operators and was probably located at or near the present-day Gordon's Lake DGIF boat access. In 1869 the property of William Jones, deceased, was sold to settle a suit. The Richmond Whig newspaper advertised a large tract "on waters of Dockery Creek and known as Lombardy Grove ... There is upon the tract the large and comfortable dwellinghouse ..." The ad also offered "Jones' Mill with 31 acres of land attached... on Miles Creek, three-quarters of a mile from [Lombardy Grove] property. This mill is adapted to the grinding of both corn and wheat, has a very abundant supply of water, and is regarded as exceedingly valuable and desirable property."
Myrta Lockett Avery provides a vivid description of Lombardy Grove and her impression of the "brief period immediately following the War Between the States" in her memoirs written for her nephew:
In that bright time of promise, Southern cotton and tobacco were selling. Northerners were coming down to buy Southern lands. Groups of prominent business men--promoters, surveyors, engineers, stopped at Lombardy Grove which because of location and other factors was a center for public movements. General Imboden, later the husband of your Aunt Annie, was a member of some such group. Lecturers, who spoke at Zion Church about "Texas" and other themes of the day, spent nights with us.
The foundry furnished one of the show places of the section. It was on papa's land and the water power was supplied by Dockery Creek, a deep quiet stream which circled about through the plantation and turned the wheel of a grist mill... . The foundry, the mill, the tannery, the cotton gin, the blacksmith's shop, each supplied the nucleus of a little settlement. In modern terms, Lombardy Grove might be described as a community center. The post office was at Papa's store; and on two days each week, many horse [sic] and mules would be tied to the hitching posts thereabouts.
Contributor: Carol Corker, Mecklenburg County Civil War Sesquicentennial Committee
---